The article below was published in the Centerpost newsletter of the Pottstown Memorial Medical Center in September 2013. We love Dr. Nikos Pavildes and Pottstown Memorial Hospital!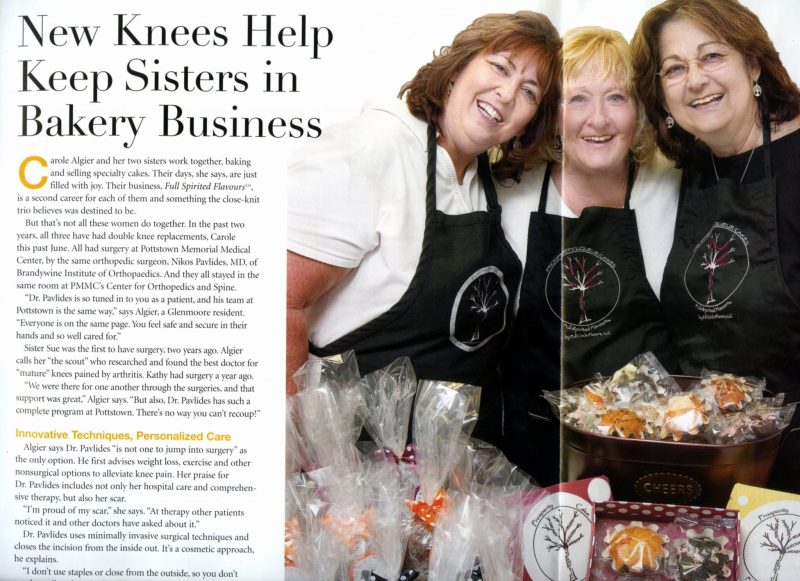 Article Text:
New Knees Help Keep Sisters in Bakery Business
Carole Algier and her two sisters work together, baking and selling specialty cakes. Their days, she says, are just filled with joy. Their business, Full Spirited Flavours™, is a second career for each of them and something the close-knit trio believes was destined to be.
But that's not all these women do together. In the past two years, all three have had double knee replacements, Carole this past June. All had surgery at Pottstown Memorial Medical Center, by the same orthopedic surgeon, Nikos Pavlides, MD, of Brandywine Institute of Orthopaedics. And they all stayed in the same room at PMMC's Center for Orthopedics and Spine.
"Dr. Pavlides is so tuned in to you as a patient, and his team at Pottstown is the same way," says Algier, a Glenmoore resident. "Everyone is on the same page. You feel safe and secure in their hands and so well cared for."
Sister Sue was the first to have surgery, two years ago. Algier calls her "the scout" who researched and found the best doctor for "mature" knees pained by arthritis. Kathy had surgery a year ago. "We were there for one another through the surgeries, and that support was great," Algier says. "But also, Dr. Pavlides has such a complete program at Pottstown. There's no way you can't recoup!"
Algier says Dr. Pavlides "is not one to jump into surgery" as the only option. He first advises weight loss, exercise and other nonsurgical options to alleviate knee pain. Her praise for Dr. Pavlides includes not only her hospital care and comprehensive therapy, but also her scar.
"I'm proud of my scar," she says. "At therapy other patients noticed it and other doctors have asked about it."
Dr. Pavlides uses minimally invasive surgical techniques and closes the incision from the inside out. It's a cosmetic approach, he explains.
"I don't use staples or close from the outside, so you don't get that railroad track effect," he says. "It takes more time, but I feel patients don't need a big scar that's a constant reminder of the surgery."
From her sisters' experience, Algier also knew she would receive an extraordinary level of personal attention from Dr. Pavlides. "He spent time with me every day in the hospital and made sure I had everything I needed," she says. "I've never had a better experience."